An Anthology of Doctoral Scholars from around the globe . . .
Topics ranging from business, education, healthcare, cybersecurity, social media, marketing, and more
Refractive Thinker® Volume XXIV: Mental Health: Effective Application of Policy and Practice
COMING SOON!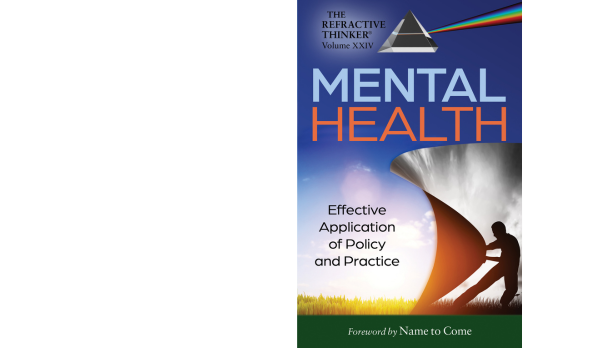 Our Services
We provide concierge book services from editing, cover and interior design, and publishing in both print and eBook format.
Dr. Cheryl Lentz in this all-important series The Refractive Thinker® understands the critically important intersection of critical thinking and experience. She applies the social theories of Paolo Friere to the concept that education is an important element in the citizen's connection to community. In doing so, Dr. Cheryl brings together her extraordinary education and expertise with fellow thought leaders and educators, to examine and find solutions to some of some of our most important societal business, social and political dilemmas.
This critical work is a must-read for all who believe, want to seek and understand the possibilities for changing how our society functions. I can personally attest to the resulting neglect, inadequate care, and substandard quality of life for those entrusted to the care of the system as well as the treatment of the workforce who cares for them. From there, each chapter unveils the opportunity for us to apply our highest order of thinking and intellect through one lens to broaden our perspective, guide our thinking and hopefully inspire our advocacy to hopefully make needed changes across several sectors."
Learning doesn't always happen in a formal classroom; sometimes one learns from the school of hard knocks and experience. The Refractive Thinker® series connects these two worlds of business and learning in this volume regarding criminal justice—the ability to focus on strategies for effective personal and professional outcomes. A Refractive Thinker® is one who never settles for anything less than everything, daring to question what is, in favor of what might be. Dr. Cheryl Lentz dared to change the model of academic publishing by understanding the power of connection between education and business-to make research more accessible to business owners and entrepreneurs. No one benefits from playing small, particularly with one's personal passion in the world of knowledge. Refractive thinkers® play on a big stage, truly desiring to change their world and ours. Join them."
Authors always want to know the latest out-of-the-box strategy to sell more of their books. The Refractive Thinker® series adopts this innovative-thinking approach, so you can get your doctoral research out of academia and into the hands of those who need it. This volume, specific to the field of criminal justice is a particularly good example of how to make that happen regarding effective strategies. There is no need to go it alone. Join your colleagues on a journey in search of innovative solutions as you navigate the landscape of business."
A concise review of worthy research, articulated in a well-documented scholarly format. In light of the Wanna.Cry ransomware that hit as I write this review, the material of which she writes is very apropos, especially her recommendation that "organizations need to enforce policies that tighten the security of the individual as well as the company."
Great new addition to the Refractive Thinker® legacy. Healthcare is critical to our mental, physical and fiscal well being! We need to change the way think about how we approach, and deliver health, wellness, and nutrition. Thanks for another great edition!
Really enjoyed reading this book so many ideas to help me in my leadership role. Really good read!